Elevated risk management: Methodology-driven, configurable and with best-practice risk and control libraries
In today's complex business environment, mitigating the risk of financial crime is a vital yet challenging task. Our enterprise risk assessment solution transforms your risk analysis process, enabling you to adapt and excel in a demanding regulatory environment. It helps you to identify and assess risks effectively, allowing you to build appropriate control frameworks that are aligned with evolving regulations.

At msg Rethink Compliance, we understand the need for a flexible, robust approach to risk management. Our solution combines best-practice risk and control libraries with customisability to meet specific institutional requirements. With our methodological approach, we provide pre-populated expert content that can be tailored to fit any enterprise risk management framework, improving the quality and effectiveness of your risk assessments.
Capabilities & Features: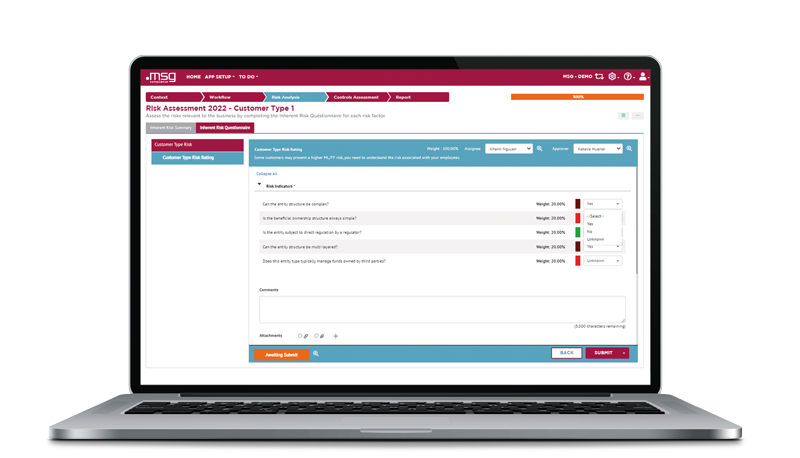 Comprehensive Risk Identification & Evaluation: Effortlessly categorise and assess risks by following a well-proven methodical approach
Integrated Workflow: Efficiently navigate the risk assessment process with clear and structured task assignments
Automated Calculation: Maintain objectivity and transparency by applying automatic and consistent risk calculation methods
Detailed Audit Trail: Securely record changes, history, and supporting documents for all relevant activities
Visual Risk Analysis: Make informed decisions based on visualized risk aggregations, dashboards, analytics, and reports across your enterprise
Prioritised Task Overview: Keep track of assessment completeness, review requirements, and approval needs
Your benefits
Efficiency
Expedite risk assessments - accomplish in days or weeks what used to take months
Streamline data collection, risk assessment, and result summaries
Reduce data aggregation time for faster, better-informed decisions
All assessment data is easily accessible, eliminating file search and version control issues
Keep track of follow-up actions with email alerts and notifications
Quality
Enhance process quality with a systematic approach and comprehensive audit trails
Reduce data handling errors for increased accuracy
Instantly provide supporting evidence to regulators on demand
Standardize and repeat the risk assessment process with ease
Generate clear, accurate reports and insights for decision support
Support
Our solution undergoes rigorous testing for unparalleled reliability
Receive dedicated application support and regulatory updates
Reduce dependency on consultants and increase self-sufficiency
Easily deploy our solution in shared or private cloud environments
Our cloud-based solution is not just a tool, but an ally in your risk assessment journey, giving you the support and flexibility you need to manage risk effectively. Whether you're dealing with money laundering, fraud or other forms of financial crime, our system ensures that your risk exposure is in line with international regulations and your organisation's risk appetite. With our solution, you can quickly build a defensible, data-driven programme that's tailored to your organisation's needs, resulting in a streamlined, efficient and highly effective risk management process.
Data Sheet - download now
Costs and savings calculator
Have a question? Contact our experts
Have a question? Contact our experts ... or send us a message and we will get in touch with you. We look forward to hearing from you.